Geology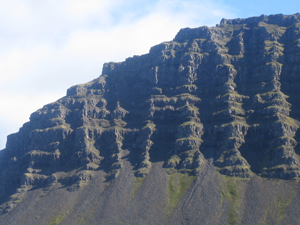 Would you like to know how Iceland was formed?
Did you ever want to see and understand the influence of the ice age glaciers on the landscape?
Are you fascinated by stones?
Are you interested in volcanic activity?
Your walk starts at our protestant church in Ísafjörður, and goes up to the slopes above the village.

On the walk into our nature you will learn about the formation of the Westfjords while you can enjoy the wonderful view of the fjord and surrounding valleys.
Along the way you will learn interesting and noteworthy information about former volcanic activities and how the glacial period shaped the landscape and will also be shown the different types of rock layers, stones and more.
Also, you get an insight into the Icelandic vegetation and will see plants in their natural habitat.
It is possible to extend the Ísafjörður Walk by one hour with this one at 10:00 or book only this walk at 14:00.
Daily in summer at 10:00, 14:00 and 17:00 (On cruise ship days change start times)

in winter at 14:00
Meeting point: protestant church or tourist information

Elevation: up to 80 m
Duration: 2,5-3 hours
Group size: 2-10 people

Price for one: 10.500 ISK (children up to 14 free), for 8-10 people 9.500 ISK
(for only one 18.000 ISK)
To make a booking, please contact me. I will answer you quickly.