As long as the pandemic has not subsided, I am not offering this walk because we
cannot guarantee a minimum distance and cannot offer samples.
Please Taste!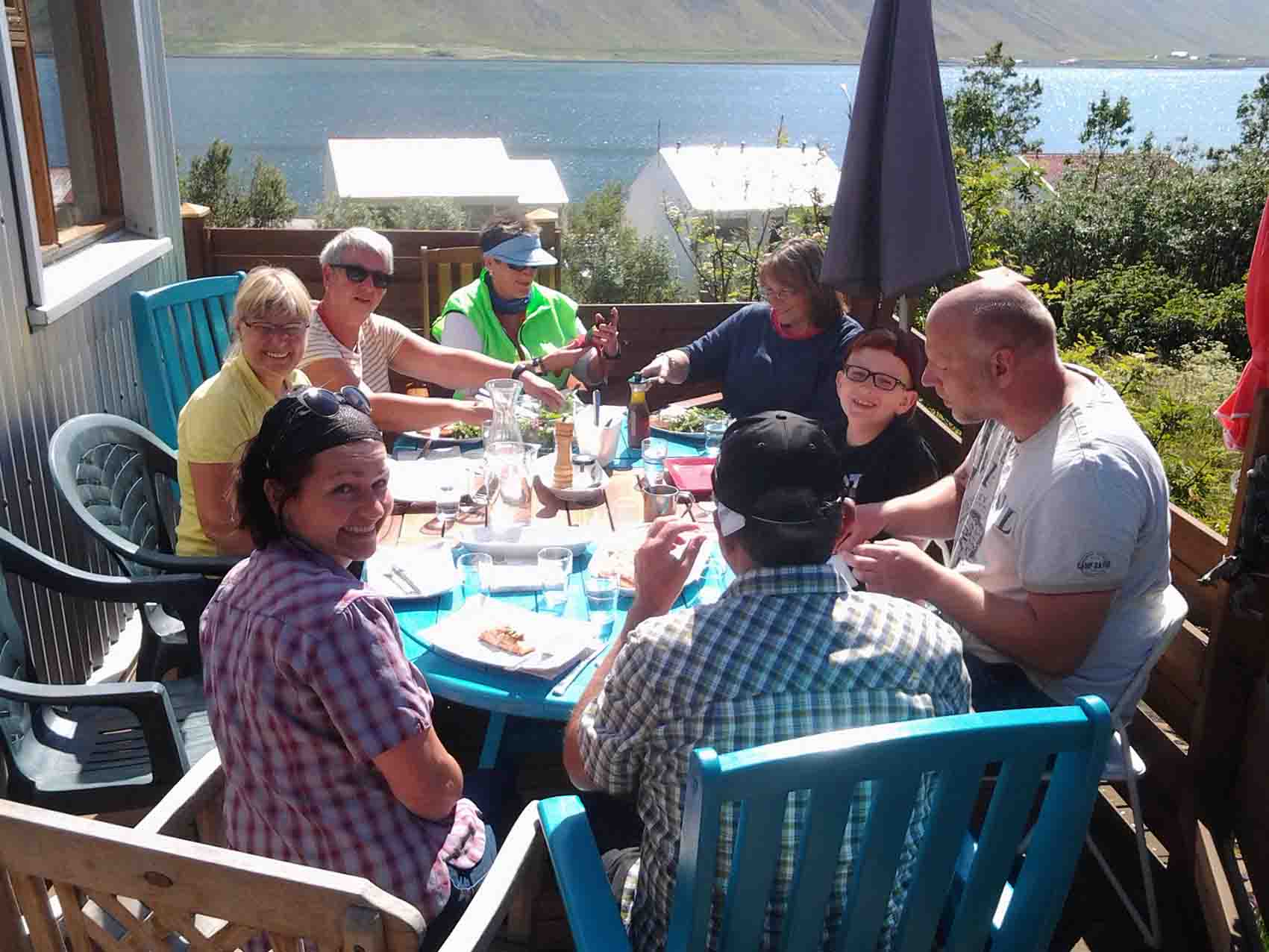 Fun walk featuring culture, traditions, and culinary experiences of the Westfjords
Our walk starts at the Tourist information, goes through the pictureresque centre of Ísafjörður and ends at your guide Helga´s garden. From there you have a fantastic view of the fjord while sampling traditional dishes. On the way we stop at a local fishmonger, get insights into the history and culture of the Westfjords, its traditions, its food, life and working conditions and speak with local people. Like the Icelanders in former times we will also gather some herbs for our meal.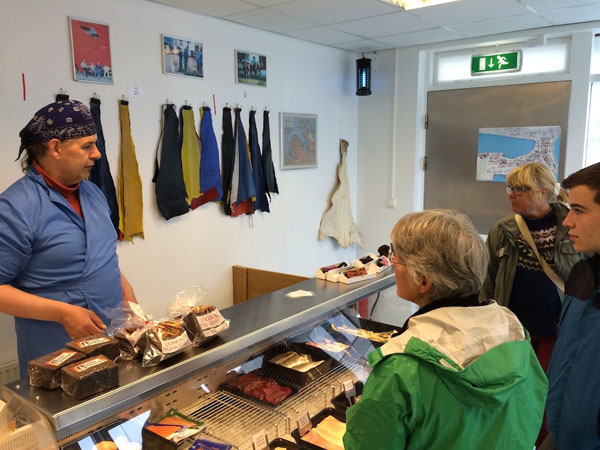 On the big sunny patio on the edge of town in the middle of colourful shrubs we will prepare a tasty fish dish together. During the coffee there is time for questions and to learn some Icelandic words.

At the end the guests can easily get back to town on their own (town centre ca. 20 Minutes).
Please note: the walk is not difficult - mostly fixed paths and only a slight difference in height. Nevertheless the 1 1/2 hours through the place (2 km/1,5 miles) and to Helga´s garden are not recommended for handicapped people. Planned visits and contacts with local people can´t be guaranteed.

Daily at 10:00 and individual arrangement (On cruise ship days change start times)
Meeting Point: Tourist Information Ísafjörður
Duration: 3-3,5 hours

Included: Guide, herb gathering, light meal and tea/coffee

Group size: 2 to 6 people
Price for one: 15.500 ISK (children up to 12 years free)
Customer testimonials
We had booked a wonderful hike directly at Helga. She has not only brought to us the history of the place, but also opened her home for us. We grilled the fresh fish and collected wild herbs for a salad. Our shared meal on Helga's sun terrace was the highlight of our trip! (2019)
Helga is the perfect tour guide for Iceland. Full of information mixed with humour while taking an easy stroll through the town. You can feel how proud Helga is of being a local. We ended up at her home and helped prepare a lovely lunch of BBQ fish. Helga turn a gloomy day into a happy exciting wonderful time for us all. Thanks Helga.
Helga is a wonderful guide, friendly and knowledgeable, eager to answer questions and help the visitor understand life in Isafjördur - in the past and today. We had a very nice walk through the town while she discussed history as well as current landmarks and culture. At the end, we had a wonderful lunch at her house with fresh fish and salad with herbs from her garden. Its also nice because she keeps the groups small and intimate. Beware though - she'll put you to work on the grill! Highly recommend this walking tour.
Two friends and I enjoyed a lovely tour of Isafjordur including a stop at a local church and the fish store. We helped pick salad from Helga's garden (including some strawberries) and loved learning about the local culture while we enjoyed a delicious lunch on Helga's deck overlooking her garden and the harbor on a beautiful, sunny day. (2019)
We had a great and wonderful experience with this tour! Nice walk through town with a lot of interesting information and pictures of the past. After the walk a warm welcome at Helga's home and garden. We learned a lot during picking all the ingredients for the salad fresh out of the garden. A very tasty lunch , great service, unique experience!!! (2019)
To make a booking, please contact me. I will answer you quickly.