We offer Guided Walks through Ísafjörður in the Westfjords of Iceland
Ísafjörður Walk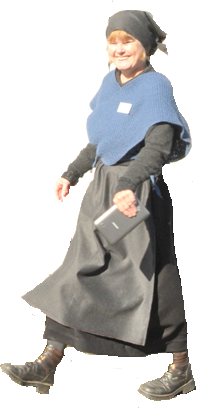 An interesting journey through time
Why are people proud to live here now? What is important for them today? How do they live and think?
Are you interested in history and how people lived in the past centuries?
Are you fascinated by old houses?
Do you like listening to legends and stories?
The small town of Ísafjörður is unique in Iceland. Its unusually well-preserved city centre dates from the 19th century and still reflects its charming history that remains alive in the legends and isa_walkstories. Ísafjörður is known today for its cultural and artistic diversity.
Our guide meets you at the Tourist Information, dressed as a woman from the 19th century, and takes you on a walk through the city and up to the slopes above Ísafjörður. On the way she shares her lunch box with you. You will visit interesting places, such as historical houses and trade centers from the prime time of Ísafjörður. Further, you will receive information on history and culture and hear a lot of stories about the people who lived here and their common beliefs. You will also visit the places the stories are told about.

At the end of your hike, in the middle of nature, experience an insight into Icelandic vegetation and the formation of the Westfjords while you enjoy the wonderful view of the fjord and surrounding valleys.
A special experience is a visit to Ísafjörður in winter, when the snow-covered landscape and the winter sky create a fascinating atmosphere.
It is possible to extend the walk by one hour on the following walks: Geology, Plants (only in summer), Autumn Colors (only in autumn) or Elves, Trolls and Stories
Daily in summer at 10:00, 14:00 and 17:00
in winter at 14:00
Meeting point: Tourist-Information-Center
Elevation: up to 68 m
Duration: 2 hours
Group size: 2-10 people

Price for one: 8.500 ISK (children up to 16 free), for 8-10 people 7.650 ISK
(for only one 17.000 ISK)
To make a booking, please contact me. I will answer you quickly.