Nature Walk
The gentle adventure trip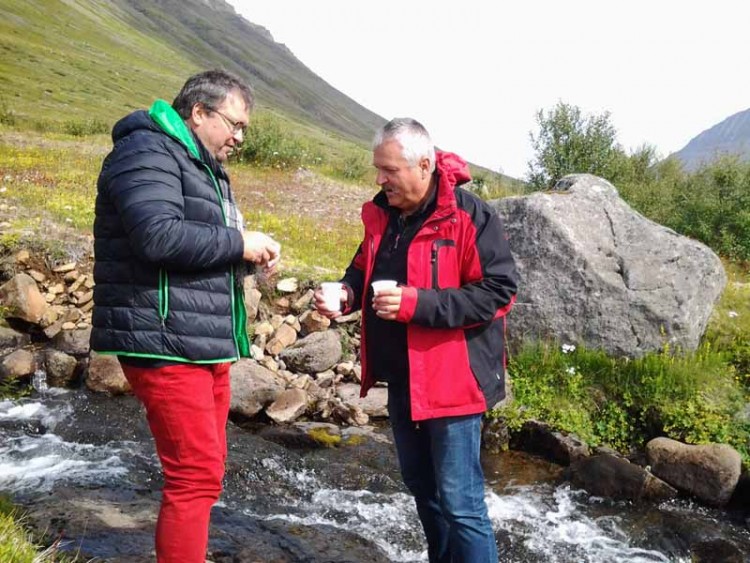 Enjoy a relaxed walk filled with information on the history, vegetation, geology and Sagas of this beautiful landscape.
The Icelandic Westfjords are fascinating because of their unusual landscape and special culture. Their solitude, stillness and the natural uninhabited Fjords are making them well known among insiders.
Ísafjörður, the largest town of the Westfjords, has a special charm due to the well-kept town centre from the 19th century. It is located on a peninsula surrounded by majestic mountains and quaint valleys. The most beautiful of these valleys is the destination for our walk.
We will start in the town centre walking through the town, up the slopes through rich vegetation until we reach an impressive waterfall. During our walk I will talk about the history of Ísafjörður, the culture, interesting facts about vegetation, geology, the day to day life of the people in this isolated part of the world and other interesting local stories.
When we reach the waterfall you will have enough time to explore the area and its beauty – a walk through the pine forest or along the wild streams surrounded by the natural wild birch vegetation so typical for the Arctic. Due to the sheltered remote location of the valley it houses an impressive multitude of different plants which make it ideal for botanical excursions. The first blueberries and crowberries can be found here in July. On our return route there is a small botanical garden which can be viewed. May and June are the best month for shorebird watching which you will also get to see on our route.
This walk with the beautiful views allows a unique experience of the landscape.
We finish the walk with a lovely cup of "Kaffi" in the garden of our tour guide overlooking the fjord and Ísafjörður.

I can recommend this walk for all seasons of the year. In autumn or winter you can enjoy other beautiful sides of the breath-taking landscape. The often mild autumn months are impressive with the multitude of colours inviting you to collect berries and mushrooms whereas in the winter months the white mountains and the half frozen waterfall show a completely different side which is no less beautiful. Then we take the coffee inside the house.

At the end the guests can easily get back to town on their own (town centre ca. 20 Minutes, 2 km/1,5 miles).
The landscape is also fascinating in winter. The waterfall is sometimes frozen with its bizarre ice crystals, sometimes with drooping water.
Daily at 10:00 and individual arrangement (On cruise ship days change start times)
Meeting point: Tourist Information Center
Elevation: up to 80 m
Duration: 5 hours
Group size: 2-10 people

Price for one: 15.000 ISK (children up to 12 free), for 8-10 people 13.900 ISK
To make a booking, please contact me. I will answer you quickly.
Some reviews from 2019
Our hike with Helga was awesome! We are so glad to have taken the Nature Walk. Throughout our 5-hour hike Helga shared fascinating information about the town, plant life, birds, and geology of the region. The time flew by! We also learned about trolls and elves, sampled some local edible plants, and visited an absolutely lovely waterfall. The hike was not strenuous, but I was glad to have my hiking boots (although my husband did just fine in his tennies). A camera is a must -- Isafjordur is stunningly beautiful! -- and be sure to dress in layers! It was a little windy at times, and I wish I had followed Helga's suggestion to wear a hat -- something that covered my ears would have been nice! I'm positive this excursion was far better than anything our cruise line had offered. If I ever go back to Iceland, I would definitely do another excursion with Helga. Her customer service is also top-notch; she is prompt at responding to email inquiries, and provides thorough information. Also, she went out of her way to meet us at the cruise ship. Fabulous excursion!