One week Ísafjörður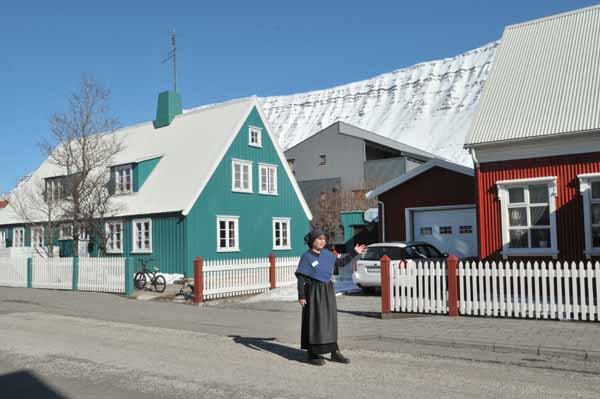 Adventure holiday in the Westfjords
Trips for individuals in autumn and winter whenever you want

Experience Northern lights on starry nights, "White Christmas", New Year fireworks or the glowing brightness of the snowy landscape as soon as the days get longer.
The Icelandic Westfjords are leaving a big impression on tourists because of their beautiful landscape and special culture. The solitude, stillness and untouched nature are making them an insider tip for visitors. Please give me the opportunity to introduce you and bring you closer to my adopted home.
Ísafjörður
With 2600 inhabitants, Ísafjörður is a quaint little town nestled into the majestic Fjords of the Westfjords. The unusual well-kept town centre from the 19th century mirrors the special history. Nowadays Ísafjörður is also a town well known for its cultural and artistic diversity. Visit us in autumn and winter and you get to experience a different but still no less beautiful side of this country.The mostly mild autumn wins you over with its immense pallet of colours and invites you to collect berries and mushrooms. The nights are starting to get longer and in clear nights you already have a majestic display of northern lights.
In the weeks coming up to Christmas you get to enjoy the magical Christmas light displays in town and on New Year Eve a big bonfire and fireworks are making the trip a special experience. Here you still get to experience white Christmas!
As the days start to get longer again, you'll get to enjoy the bright snow covered landscapes which reflect the sun and are truly astonishing. This is the best time for cross-country skiing, snow walks or skiing down the mountains. The highlight of the skiing session is a special skiing week over the Easter holidays. On these days, the town is full of young people skiing during the day and enjoying the Rock festival in the evening.
In close proximity of Ísafjörður are several additional offers for activities which I can arrange for you depending on your personal interests and seasonal offers.
Included in the price are
cultural and natural trips such as visits to museums, sightseeing trip into nearby villages, sports activities, guided walks through the town and into nature. Other offers include visiting artists workshops, an Icelandic family, experiencing traditional Icelandic food or the Icelandic language as well as songs, music and film will give a better idea of the life in Iceland – in the past and today. Additional offers which can be arranged include skiing, kayaking, swimming, cycling or horse riding (for beginners as well as experienced).

Accommodation depending on availability will be in a 2 Bed-room in a hotel or B&B. If requested, different accommodation in an apartment or hostel can be arranged. Included in the price is a half board, additional depending on the program small snacks and coffee will be served.
The price is inclusive transport from Reykjavik to Ísafjörður either by plane or bus and the shuttle service to your hotel/ accommodation.

One week from 1st of October to 15th of April (Easter week will be charged with summer rate) costs for 2 people in a double room ISK 190.000/per person and ISK 312.000 for single person bookings.
For one week from 16th April to 30th September please contact me.
To make a booking, please contact me. I will answer you quickly.