Heftiges Wetter
Fri, 15.March 2013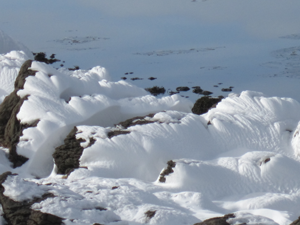 In der letzten Woche war sehr schlechtes Wetter bei uns in den Westfjorden. Man konnte nirgendswo hin gehen. Für mich ist dies normal, aber für Sie als Tourist hier kann es ein richtiges Abenteuer sein, weil Sie vielleicht bisher noch nicht solch ein Wetter erlebt haben. Der Wind bläst Ihnen ins Gesicht. Sie brauchen all Ihre Energie, um vorwärts zu kommen, manchmal gehen Sie rückwärts. Jeder muß an wetter- und windfeste Kleidung denken, bevor er aus dem Haus geht, weil die Temperaturen bei starkem Wind erheblich sinken. Schneewehen bauen sich schnell um mein Haus herum auf. Es ist nicht besonders spazig sich an schneereichen Tagen immer wieder aus dem Haus zu graben, aber es hält mich fit.
Die Eis- und Schneebilder habe ich nach dem Unwetter am letzten Wochenende im Ísafjörður Djúp aufgenommen.
<- Back
0 Responses to Heftiges Wetter
Your comment has been submitted and is awaiting approval.
Comment submission has been disabled.
Leave a Reply
Cancel reply
Name:
Email:
Website:
Comment:
Post Comment