A great mushroom!
Fri, 16.August 2013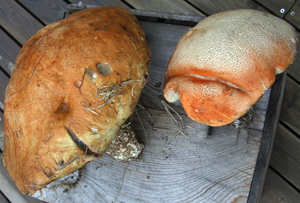 In recent weeks, I saw on my walks Birch mushroom, which as usual are pretty big here. I was wondering, when I
saw a few days ago a large reddish spot between birch trees, which also looked like a mushroom. But it was a Orange Birch Bolete - 25 cm in diameter. Then I found without looking, two more very large mushrooms.
The mushroom pickers of you must know that mushrooms are here hardly maggoty so you can use the whole mushroom. In recent years, the Icelandic mushroom pickers have steadily increased, as well as the mushrooms. Fungi live in communion with trees and with the increasing forest vegetation in Iceland with various tree species, therefore grow here also more types of fungi. Here I can find different Boletes like Birch bolete, Orange Birch Bolete, Larch bolete and porcini mushroom and chanterelle mushrooms Puffball and some edible gill fungus.
<- Back
0 Responses to A great mushroom!
Your comment has been submitted and is awaiting approval.
Comment submission has been disabled.
Leave a Reply
Cancel reply
Name:
Email:
Website:
Comment:
Post Comment