Adventure Westfjords
Mon, 30.December 2014
I want to tell you today from my adventure on 26th of December. Actually, it's not been alone my adventure, but the adventure of a group (about 30 people) who wanted to come from Reykjavik back home.
The background was that I was in Reykjavík to celebrate Christmas together with my son. On 26th December, I wanted to drive back home. For days was snow and stormy weather, and these conditions should persist. On that day the weather on the west side of Iceland should be a little quieter. After thorough research on the websites of our weather - and street offices and after a phone call to the office, I decided to drive off road at 9:30 clock in Reykjavík, although not yet clearly get I come home. As the weather should not be better in the next few days, I would rather stay in Hólmavík (already in the Westfjords ) to run home at the next opportunity . I usually need for approx. 450 km 6 to 7 hours including a break and have to cross four mountain passes . This means that the weather may also at four times change on the ride. According to my information, no new snow before the evening was to be expected , black ice was limited and three of the pass roads have just been cleared of snow . The last mountain pass, the Steingrímsfjarðarheiði, was still uncleared because the road from Súðavík to Ísafjörður was closed due to snow avalanches.
So I was come until 14:00 to Hólmavík and still the road department had not decided whether they will open the mountain pass or not. Gradually a group of people was gathering in the service area, all wanted to go to Ísafjörður. One of us had relationships and it was said that they will unofficially clear the road for us. At 16:00 clock it should go. We are then drove into a queue of eight cars behind the plow - into ignorance. The men with their snow clearance vehicles alternated so that no one had to be remove so far from his residence. But the track was good, hardly any snow or snow drifts, until to the fjord outside Súðavík. So around at 20:30 we arrived there. We were taken to reception, offered us coffee, meanwhile we waited for the passenger boat from Ísafjörður , because the road was still closed due to avalanche danger. Meanwhile, the news of our arrival spread out and everyone who wanted to get to Ísafjörður, packed his things together. The shipping company needed to went twice for 30 people in that night. The crossing was intense, like a roller coaster. When we arrived in Ísafjördur shortly before 24 clock, I was done but very relieved. Only - it was still waiting work for me: I had to dig my way through a 1.5 m high snow drift in front of the entrance door. But then I was finally coming home after 14 hours.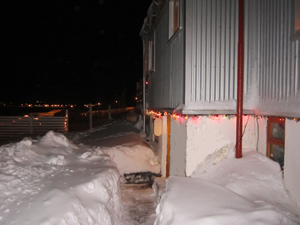 You see how much the adventure even today is at home in modern Iceland and how much mutual assistance makes possible. It was a great gift that 30 people in eight cars got of the helpful snow plows on 2 Christmas Day. Thank you.
<- Back
0 Responses to Adventure Westfjords
Your comment has been submitted and is awaiting approval.
Comment submission has been disabled.
Leave a Reply
Cancel reply
Name:
Email:
Website:
Comment:
Post Comment