Bin im WOW-Magazin
Tue, 26.August 2014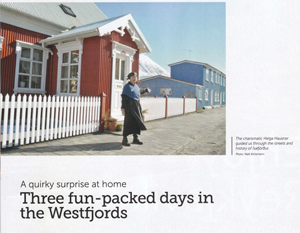 Guðrún Baldvína Sævarsdóttir wrote in WOW magazine no. four 2014:
Culture walks and safaris
Day one and we decided to sign up for the "Ísafjordur walk", a guided tour around the town with Helga Hausner, a German woman who has lived there for years. She showed up dressed like a woman from the 19th century and proceeded to walk the group through the town and its history in two hours. The tour was very informative as I knew nothing about its history, and fun since Helga is a charismatic lady who clearly loves what she does. Her foreign accent added a quirky note to the historical atmosphere. There's another thing I noticed about Ísafjorður, it's the wonderful multicultural vibe of the town, much more so than in your average lcelandic countryside hamlet. During our three day stay we met people from Poland, Germany, Thailand, USA and Canada, living and working in the town and they all seemed to speak incredibly good lcelandic.
<- Back
0 Responses to Bin im WOW-Magazin
Your comment has been submitted and is awaiting approval.
Comment submission has been disabled.
Leave a Reply
Cancel reply
Name:
Email:
Website:
Comment:
Post Comment